SigEp Grand Chapter Conclave
Nashville 2015
Colorado State SigEp was represented at the 54th Grand Chapter Conclave in Nashville by brothers Al Hornung '61, Bryan Harmsen '01, Quinn Booth '14, and faculty advisor Todd Donavan (OK State).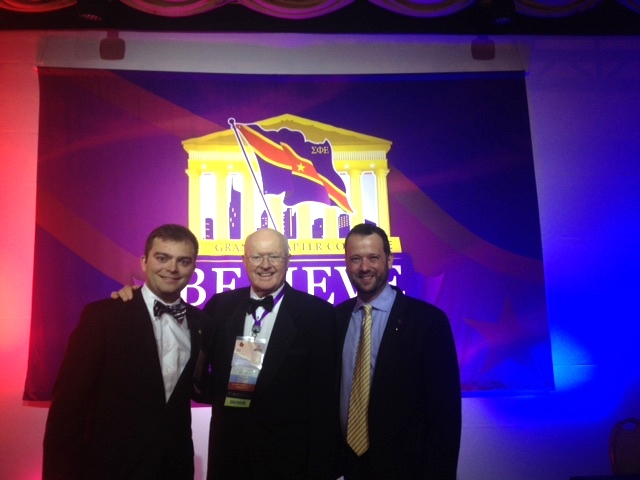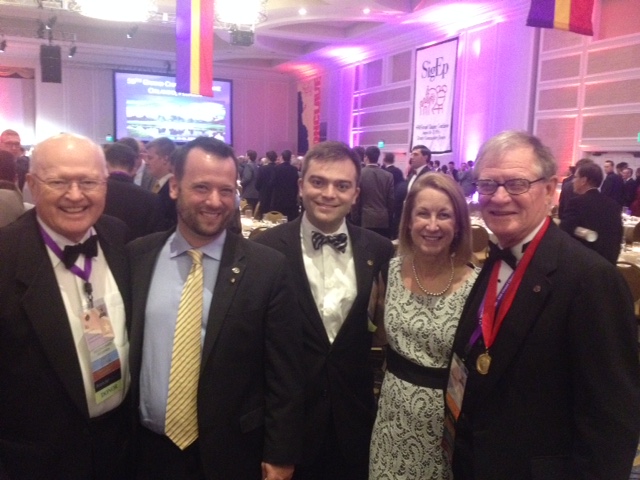 CONCLAVE PROGRAMMING
Balanced Man Celebration
32 chapters received the Buchanan Cup, recognizing the fraternity's top chapters
The Cincinnati RLC chapter received their 14th consecutive Buc Cup, representing 28 consecutive years of excellence
The Southern Mississippi and Montana State RLC chapters received their first Buc Cups in Nashville
13 chapters were chartered/re-chartered since the last Conclave including our Alabama, Arizona, and Florida State chapters...
The Arete Awards Luncheon
The luncheon was hosted by Arthur J. Hurt III (Davidson '88) and Jonathan L. Wharton (Renaissance, Stevens Tech)
Four brothers were recognized for outstanding career achievement with the Citation including Charles E. Amato (Sam Houston '70), John R. Lawson (Virginia Tech '75), Patrick W. Lawler (Memphis '77), and Alan D. Wilson (Tennessee '79)
Two Cornerstone Awards, presented to an individual or group of individuals who have made a significant contribution of their time and talents towards a major housing project, to the Virginia Tech and Cincinnati Alumni & Volunteer Corporations.
University of South Carolina brothers Max Fowler, '15, and Zach Knight, '14, were named the recipients of the Clayton-Doud Award. The biannual scholarship is awarded to SigEps who exemplify the Fraternity's charge to help fellow brothers in their time of need.
Legislation Notes
Dallas 2013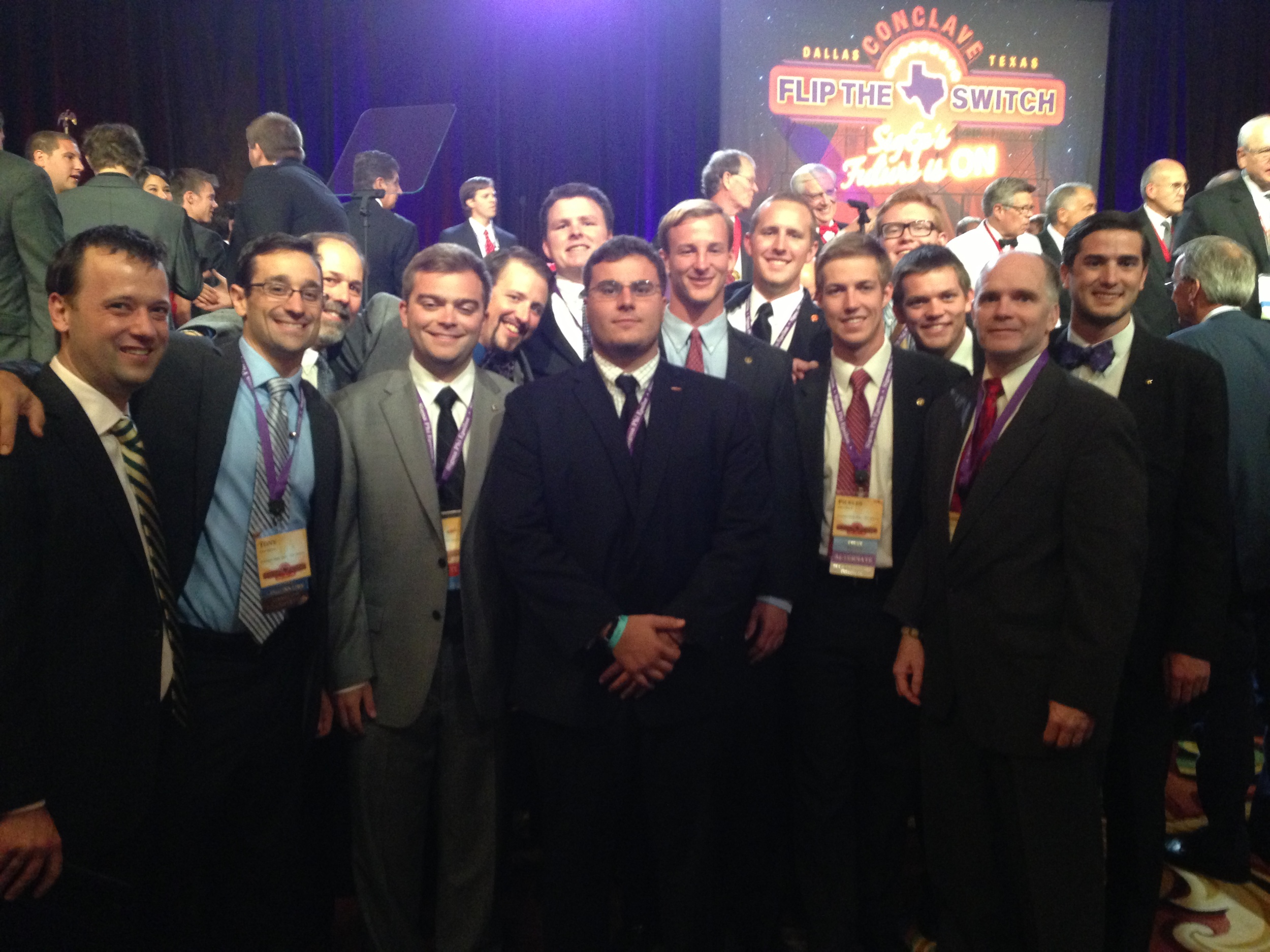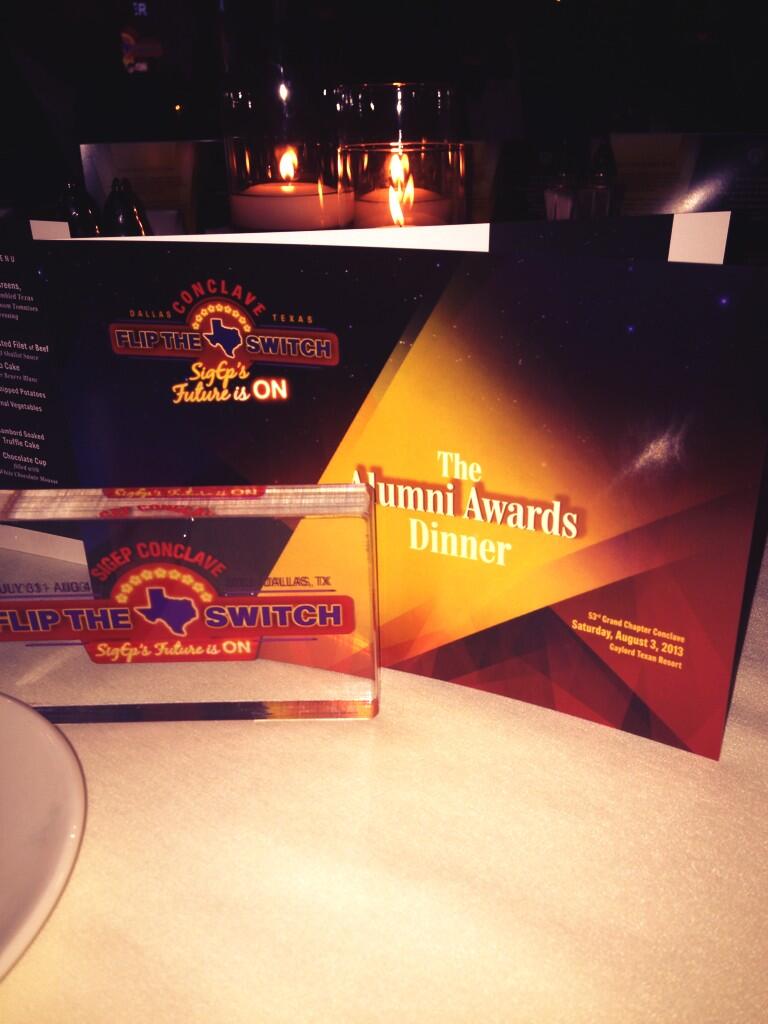 Phoenix 2011
Delegate: Kevin Briggs
Alternate: John Dietrick
At Large: Billy Raddell, Austin O'Neil, Drew Becker, Brett Zoerlin, Quinn Booth, and Mitch Snow
Alumni Representing Co Gamma: Todd Donavan (Faculty Advisor), Bryan A. Harmsen (AVC Comptroller), Ryan Garthright, and Tony Mauro (AVC President)
Orlando 2009
Delegate: Mike Williams '09
Alternate: James Stuart '11
Co Gamma at the 2009 Orlando Conclave
Four undergraduates and two volunteers represented Colorado Gamma at the 51st Sigma Phi Epsilon Grand Chapter Conclave held in Orlando, August 10-15th, 2009. Mike Williams served as Chapter Delegate and James Stuart served as Alternate. They were joined by undergraduates Jon Digiorgio and Jensen Fair as well as AVC Comptroller Bryan A. Harmsen and Faculty Advisor Todd Donavan.

Conclave was hosted at the impressive Shingle Creek Resort in Orlando with full amenities, including an 18 hole golf course. SigEp brothers from every chapter, representing nearly all 50 states, consumed the resort as everyone met brothers from other chapters and participated in great seminars and work sessions sponsored by SigEp HQ.

The Balanced Man Celebration was held Thursday night at the Hard Rock Cafe in Universal Citywalk. Colorado Gamma was not able to bring home the Buchanan Cup hardware in 2009, but walked away excited knowing how close we are to standing on that stage and claiming our second Buchanan Cup in 2011. After dinner, Co Gamma undergraduates and volunteers enjoyed dinner at Jimmy Buffett's Margarataville in Universal Citywalk to wrap up a great day at Conclave.

The Brotherhood Luncheon was a time to honor SigEp brothers who've left us since the last Conclave. We remembered the dedication and honored the memory of our departed brothers. Four awards were also presented at the Brotherhood Luncheon: the Benjamin Hobson Frayser Award for outstanding alumni communications, the Cornerstone Award for making a significant contribution towards a housing project, the Doud-Clayton award for recognition of "Brother Helping Brother", and the Honor of the Philias for uniquely demonstrated Brotherly Love.

Colorado Gamma was recognized at the Brotherhood Luncheon as a recipient of the 2009 Benjamin Hobson Frayser Award for outstanding Alumni Communications through The Spear and CSUSigEp.org!
Atlanta 2007
Delegate: Drew Mason '09
Alternate: TJ Keller '10
Nashville 2005
San Antonio 2003
The 2003 Conclave was held in San Antonio with the Marriott Riverwalk hosting the event. The alumni were represented by Isaac Greenlee '01 and Bryan A. Harmsen '01.
Washington, DC 2001
Chicago 1999
Delegate: Brian Westerberg
Alternate: Ryan Scheich
Orlando 1997